Brodie International Co., LLC is an established manufacturer of liquid flow meters, equipment and engineered measurement solutions for the petroleum and industrial markets. At Brodie, we are dedicated to being the most reliable company to produce and distribute quality products and services. We believe in building long-term relationships with our customers, employees and trusted selling partners. Formed in 1928, Brodie's 45-acre campus where we design, engineer and manufacture world class measurement and control solutions, is located in Statesboro, Georgia USA.
Our 165,000 square foot ISO certified facility contains one of the largest flow calibration centers in North America, capable of rates up to 13,000 B/H on mineral spirits. Our in-house service center specializes in the repair, remanufacture and recertification of all Brodie products, in addition to meters and valves from other manufacturers.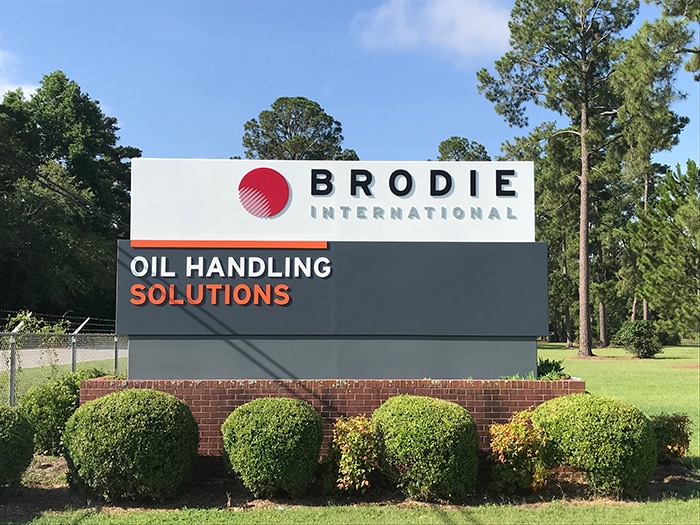 1928
Company was founded by Ralph M Brodie in California who developed the BiRotor Meter and Control Valve of the same name.
1965
The business was sold to ROCKWELL and the production of the BiRotor Meter and Control Valve was relocated to Statesboro, GA. It moved under the BROOKS INSTRUMENT banner, EMERSON division in 1970.
1990
EMERSON purchased DANIEL MEASUREMENT and merged part of the BROOKS INSTRUMENT business under the DANIEL name.
2003
A group of PRIVATE INVESTORS, all of whom had previously been involved with Brooks Instrument at various stages, purchased the STATESBORO FACTORY along with the BiRotor and Oval Gear meter lines.
2007
Company was re-branded as BRODIE INTERNATIONAL.
2012
Brodie extend its capabilities to SYSTEM INTEGRATION, by offering skid mounted measurement solutions to complement its best in class meters, valves, strainers/air elminators.
2018
The Brodie International portfolio is expanded with the release of the ADDPAK (Additive Injection).
2019
Brodie International extend the BiRotor Plus family with the release of the F series with a flow range up to 13,000 BPH (2,066 M3/Hr).
2021
Brodie completes the acquisition of the Brooks Compact Prover from Emerson Automation Solutions, bringing the product line back home to Statesboro.