Mechanical accessories range from totalizing registers, ticket printers, presets, frequency to analog converters, flow rate indicators and temperature compensation units. These accessories provide an interface between the meters and remote equipment utilized for control and monitoring.
Technical Specifications
Flexibility in Output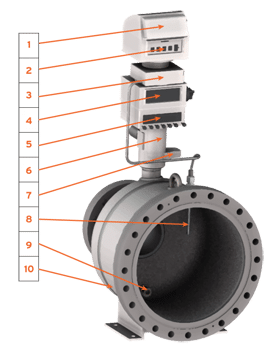 Can be fitted with various mechanical accessories (no external power required).
Dual channel output (90° out of phase) per API (P style) or fitted pulsers on mechanical meters.
The Stackup
1. Ticket Printer – Provides ticket print-out of the transaction
2. Net Register – Provides compensated volume
3. Automatic Temperature Compensator
4. Gross Register – Local indication in desired engineering units (e.g.: gallons, liters)
5. Preset – Allows program amount to be delivered
6. Pulse Output Device – Relays information to another source
7. Adjuster – Allows calibration of the meter, changes gear ratio between meter packing and counter
8. Temperature Sensor
9. Drain Plug
10. External Housing – Provides pressure containment
Register
Ticket Printer
Preset
Microswitch
Pulse Transmitters
The dry reed (1:1 or 10:1) and solid state (100:1) pulse transmitters provide fast and accurate signaling for remote indication, totalizing and data monitoring systems. The 1871, 7697 and 7671 pulse transmitters accurately pulses electronic signals from a meter register to a remote display or a data system
Automatic Temperature Compensator
High Frequency Pulse Generator
Rate of Flow Indicator